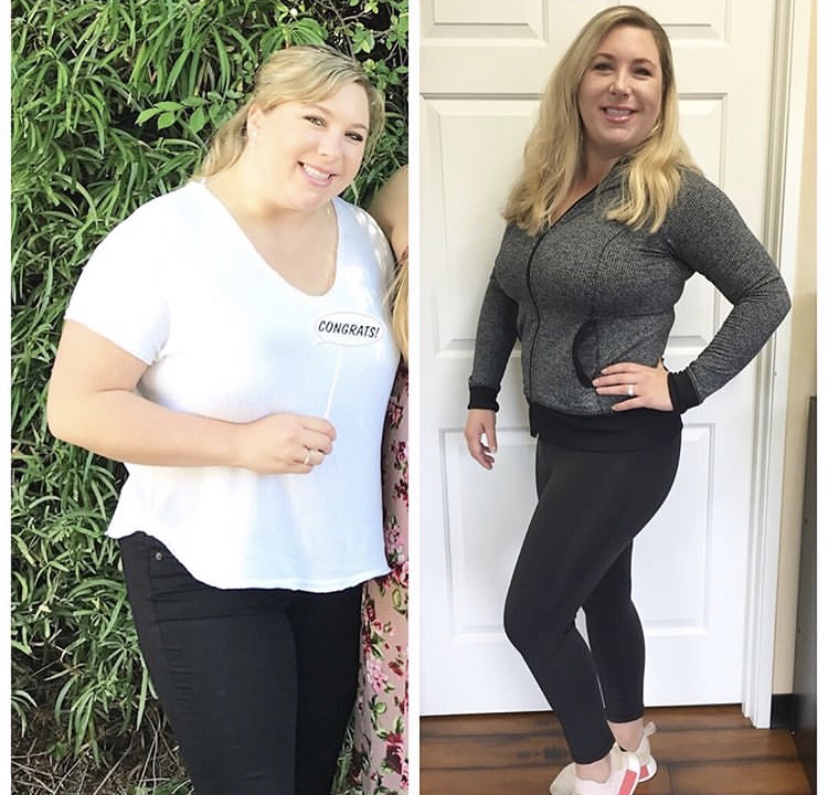 Donna D.
SHE HAS INSPIRED ME TO TAKE BETTER CARE OF MYSELF AND TREAT MY BODY LIKE THE TEMPLE IT IS.
Jeanine is an amazing coach. She looks at the whole person. She does not give you a radical approach that is a fad for the season. She takes the time to plan with you and for you with regard to proper nutrition, weight loss and activity. She has helped to change my total outlook on exercise and diet choices. It all started with me moving a little more and drinking water. Now, I am eating whole nutritious foods, exercising regularly, and I actually enjoy it. I am not an athlete, but I feel like I could be now. She has inspired me to take better care of myself and treat my body like the temple it is. My husband noticed a difference within my first month of working out with Jeanine. I noticed a big difference after a few months too. I love this woman so much! I give her 5 stars and a A plus. This woman lives what she speaks. She is super fit, friendly and inspiring. I was afraid of exercise, not now. I have learned to respect it and love it. Thank you Jeanine Lynn Fitness!
Michelle G.
I HAD GREAT RESULTS AND I HIGHLY RECOMMEND HER!
Jeanine is so great! I have always had skinny and weak arms and really wanted to put some muscle on them before my wedding. Did I mention that I have always disliked lifting weights too? So, I was so surprised when I started working with Jeanine and actually liked the workouts! She changes up all of the exercises each time and really tailors the workout to each person. I had great results and I highly recommend her!
Heather M.
I LOST 20 POUNDS, BUT MORE IMPORTANTLY I FOUND A WAY TO RESET MY MINDSET ON HEALTH.
Jeanine is amazing. If you're like me, you hate working out. You love chocolate. You love wine. But you also want to be healthy and fit. Jeanine has inspired me to find a balance in my life. I have found a way to make exercise routine and little indulgences okay! It's awesome. In my first year working out with her I lost 20 pounds, but more importantly I found a way to reset my mindset on health. I highly recommend! She's the best trainer. I promise you."
Lisa G.
I AM IN THE BEST SHAPE OF MY LIFE.
I have been training with Jeanine for almost three years. Jeanine takes care of the whole body! We discuss eating, vitamins, and of course we workout. It's the first time in my life that I actually have definition in my arms and back. I am in the best shape of my life. I can definitely say that I really enjoy my training time with Jeanine. Jeanine creates a program that is sustainable based on your fitness goals and lifestyle. She wants you to set realistic goals and achieve them! If you are looking for a personal trainer who cares about your well- being, call Jeanine.
Holly K.
I AM A HAPPIER BEING INSIDE AND OUT BECAUSE SHE EMPOWERED ME TO MAKE MY OWN DECISIONS IN BECOMING HEALTHIER.
Jeanine helped me change years of bad habits and adapt to new healthy habits in a matter of weeks!! She held me accountable and taught me about being consistent. These are traits I never thought I could learn or change about myself. Jeanine helped me achieve more than just feeling confident, sculpting my body and becoming stronger in my workouts…I am a happier being inside and out because she empowered me to make my own decisions in becoming healthier. I am so grateful for endless support and follow through. She always makes herself available to you and accommodates your schedule. She is not your typical drill sergeant trainer, nor does she try to sell you on trendy products! I highly recommend you investing your well-being with Jeanine!
Anna H.
AT EVERY STEP OF THE WAY, JEANINE IS THERE WITH THE PERFECT BALANCE OF CHALLENGE AND SUPPORT.
Jeanine's services are truly tailored. I have never felt so cared for by a professional service before. At every step of the way, Jeanine is there with the perfect balance of challenge and support. She is always looking for ways to help you grow in health and as an individual. She truly cares and listens, and it's genuine!